Custom Braces for Rehabilitation
Brace Yourself with Custom Designed Braces: Only at

 

Alleviate Physiotherapy – Etobicoke
Braces are an effective tool that can prevent injuries from occurring or worsening. They can protract / lock a joint and muscle tendons into place in order to aid the natural movement of these muscles and joints. They are extremely helpful while performing strenuous activities – usually outdoor activities, or even while one is working out in the gym.
During the early phase of injury and healing, the joint is unstable and fragile due to the abnormal force and stress. This can deteriorate the rate of healing. A custom brace would allow this pressure and stress to be distributed between the joint and the brace, which will relieve and transfer the excessive stress from the joint and distribute it to the brace.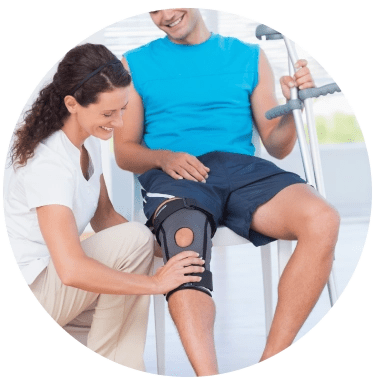 At Alleviate Physiotherapy – we offer you the best-in-class consultation to find the perfect braces for your requirements. Our team of expert physiotherapists will guide you through the brace selection process and help you find something that will optimize your performance.
What are Custom Braces? How good are they for Rehabilitation?
Custom Braces are external devices that are applied to align and promote the function of the musculoskeletal system. They are made from materials like thermoplastics, carbon fibers, elastic, fabric, or a combination of these. Specific braces are prescribed depending on the need of the patient and the purpose of rehabilitation.
Braces are used to aid the mobility of high load-bearing joints like the knee, elbow, or wrist. They usually play the role of splitting the load bearing of these joints by acting like an external support mechanism for the natural movement and load bearing of these joints.
Most common examples of braces would be – gym gloves, wrist support bands, knee braces, ankle braces and elbow braces.
Do we have to wear braces all the time?
Braces are usually worn while you are performing activities, and exercises or when you feel excessive pain. They are removed while sleeping to restore regular circulation in the affected areas and keep the natural movement unsupported.
It is beneficial to the person using them to wear them during the active part of their day as it will prevent any additional injuries and support the required natural movements externally.
Which conditions usually need such braces?
There is a wide range of anomalies where custom braces can be useful. Some of these conditions are as follows:
Osteoarthritis of the knee
Trauma to ankle, shoulder, elbow
Post surgically muscle strain, sprains or any deformity
Tennis elbow and Golfer's elbow
Types of Braces
Back Brace
Knee Brace
Ankle Brace
Posture Correction Brace
Brace for Scoliosis
Shoulder Brace
Wrist Brace
Day and Night Splint
Brace for Plantar Fasciitis
Braces can also be quite significant to athletes or elite players in order to prevent injuries and even improve their performance to some extent by averting damage or pain caused as a result of jerks and sudden movements. Braces have a predominant use in correcting faulty biomechanics.
Why do I need custom braces?
There are many benefits of using custom braces. Apart from adding support to one's joints and preventing injuries, the following reasons should be considered as more benefits:
Maintaining joints in alignment
Preventing further deformity or progression of an injury
Providing a sense of position of the joint and biofeedback
Reducing arthritic pain
Assisting the required movements
Reducing post-operative pain and promoting healing
Redistributing pressure by being an effective shock absorber
How do I know which brace is required for my condition?
Leave it to the experts!
At Alleviate Physiotherapist – your care package begins the moment you walk into our door. Our Physiotherapists will thoroughly assess your mobility and strength and after an accurate diagnosis, they will prescribe the brace that best suits your needs considering the ease of use, your requirement and size.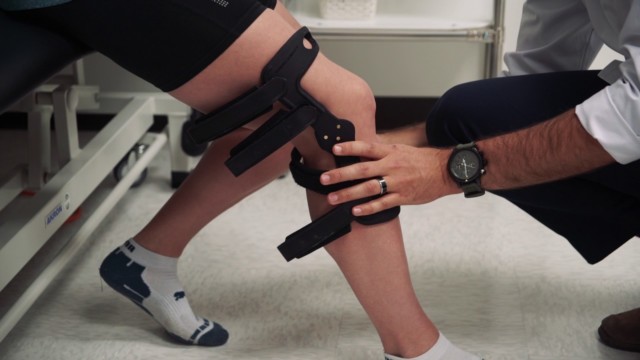 What's even better is that you don't have to worry about an injury or post operative/injury care once you have decided to Alleviate your Pain.
In doubt which brace is right for you?
DON'T WORRY!
Have Further Questions? Let Our Experts Alleviate That.
Let us help you with our Risk-Free Consultations
For your convenience, our free 10-minute phone consultation will allow you to ask us more specific questions you may have or discuss any additional concerns.
By the end of our risk-free consultation, you'll be able to decide whether you should take the next step. Please contact our office to set up a 10-minute no-obligation call with one of our expert Therapists.
Feel free to discuss with us your specific health & wellness concerns or to see if we're a good fit without putting any money down. No obligations. Fill out the form here.