The practices of acupuncture and dry needling both utilize needles to relieve pain. Although both techniques use needles, there are differences. Unlike acupuncture, dry needling usually does not involve leaving the needles in the tissue unless the muscle is particularly tight. So which practice is right for you? At Alleviate physiotherapy, our extensively trained therapists can help you choose the right treatment approach based on the evaluation of your pain origin, severity, symptoms and manifestation.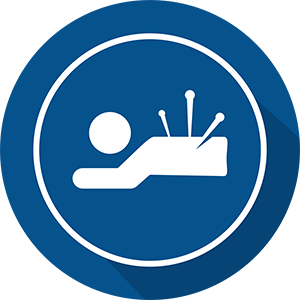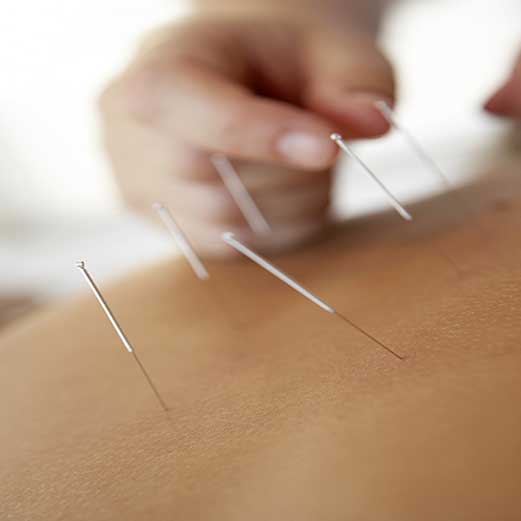 Acupuncture has been part of the traditional Chinese therapy for many years. It is based on the belief that there are energy forces within the human body and an imbalance or disruption in the flow of this energy results in pain and illness. Instead of the flow of energy, the Western approach to acupuncture is focused largely on the stimulation of nerves, muscles and connective tissue for pain relief. Therapists who are trained in western medical acupuncture technique aim at alleviating the pain by inserting small needles into your body at specific pinpoints to improve blood flow and relieve the stress.
How does acupuncture work?
Acupuncture points are found near nerves, muscles, and connective tissue of the human body. Thin needles are inserted around the pain-stricken area which help stimulate the blood flow and also increase the release of endorphins which are the body's natural pain killers. The synergistic effects of the increased blood flow and endorphins lead to a drastic reduction in your pain symptoms.
What can acupuncture help with?
Low back pain, neck/shoulder pain, knee pain
Sleep and digestive disorders
Blood pressure imbalance
Anxiety and stress
Severe headaches/Migraine
Osteoarthritis
Fertility issues
Sciatica
Tennis elbow
To cause labor in pregnant women
Help reduce the side effects of chemotherapy
Sciatica
Rheumatoid arthritis
Dental pain
At what age can one start acupuncture?
There is no fixed age to undertake acupuncture. Even a child can reap the benefits of acupuncture.
How long does it take to heal?
The healing times depend largely on the severity of the illness and the reaction of the body to the treatment. Ideally, a young person responds quicker than older individuals.
Is it a painful procedure?
This process is mainly painless, though you may feel a slight discomfort at the time of needle insertion.
What happens during the acupuncture session?
In the beginning of the session, the acupuncturist will listen to your concerns and goals and assess the severity and location of your pain in order to plan the treatment that is right for you. The treatment will typically consist of insertion of sterile needles on and near the pain affected area for a brief period of time from 10 to 30 minutes. Depending on the need, the needles may be electrically stimulated before insertion.
Why is acupuncture a better option than medicines?
Acupuncture is a natural remedy to reduce pain. Research has revealed that acupuncture heals and improves the blood circulation of your body organically and reduces the need for pain medications. Chronic use of pain medications can be harmful to your body and may cause side-effects. Acupuncture can provide a safer alternative for managing your pain without the associated side-effects of medications! Consult an acupuncturist at Alleviate Physiotherapy to find out more about acupuncture and see if acupuncture is right for you!
Dry Needling/Intramuscular Stimulation (IMS)
Dry needling or IMS is a technique in which a therapist inserts blunt needles into the muscle tissue that is experiencing tightness, knots or pain with the intent of alleviating pain and resetting the muscle to its normal resting condition. Dry needling has become a fundamental therapy modality in the treatment of muscular dysfunction and in the management of many chronic conditions.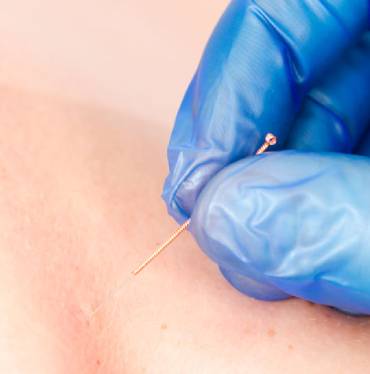 Generally, you cannot feel the insertion of the needles. An Involuntary muscle twitch as a result of needle insertion is a normal phenomenon. Most patients describe the sensentation as "achy" or "slightly uncomfortable". But overall, dry needling is a pain free procedure.
Is it the same as Acupuncture?
Although both techniques use needles, there are differences. Unlike Acupuncture, dry needling usually do not involve leaving the needles in the tissue unless the muscle is particularly tight. Dry needling may also be combined with electrical muscle stimulation for a greater impact.
Who Can Benefit from Dry Needling?
Almost everyone suffering from acute or chronic pain due to muscular dysfunction can benefit from dry needling. Please see a physiotherapist for a detailed consultation.
Why is it called "Dry Needling"?
Dry needling technique uses a blunt, thin filament, a sterile needle which does not have a lumen – a hole to inject medications. The size of the needle is approximately 1/8th the size of a medical syringe. Desired results can be obtained by inserting these thin filament metal needles into specific regions of the muscle tissue. Because this technique uses needles that cannot transfer liquids, it is known as dry needling.
Can my therapist do dry needling?
Needling technique is considered a restricted activity by the College of Physiotherapy of Ontario (CPO) as it requires a high level of skill-set and knowledge. Only therapists who have the necessary training, skills and who have been examined in the use of the technique are permitted to carry out this technique on patients. Many of our therapists at Alleviate Physiotherapy are skilled and roster at the Ontario College of Physiotherapy (CPO). The website of CPO provides information regarding the roster activity and registered therapists.
Which conditions can be effectively treated with dry needling?
Dry needling intervention can be beneficial to patients suffering with the following conditions:
Muscular Dysfunction – Acute/Chronic pain
Hip/knee/ankle/back/shoulder/elbow and wrist pain
Plantar Fasciitis and Achilles Tendonitis/Tendinitis
Muscular strain and ligament sprain
Arthritis
Tennis and Golfer's elbow
Sciatica
Sports athletics muscular dysfunction
Have Further Questions? Let Our Experts Alleviate That.
Let us help you with our Risk-Free Consultations
For your convenience, our free 10-minute phone consultation will allow you to ask us more specific questions you may have or discuss any additional concerns.
By the end of our risk-free consultation, you'll be able to decide whether you should take the next step. Please contact our office to set up a 10-minute no-obligation call with one of our expert Therapists.
Feel free to discuss with us your specific health & wellness concerns or to see if we're a good fit without putting any money down. No obligations. Fill out the form here.