What is Shockwave Therapy?
Shockwave therapy (SWT) is a non-invasive treatment option for orthopaedic pain and sports injuries. This treatment improves mobility by reducing acute and chronic pain arising from the muscles, tendons and/or joints. Non-surgically breaking down the kidney stones was the first use of the SWT.
Advanced scientific research in SWT has now provided insights into its various benefits, specifically in the treatment of musculoskeletal conditions.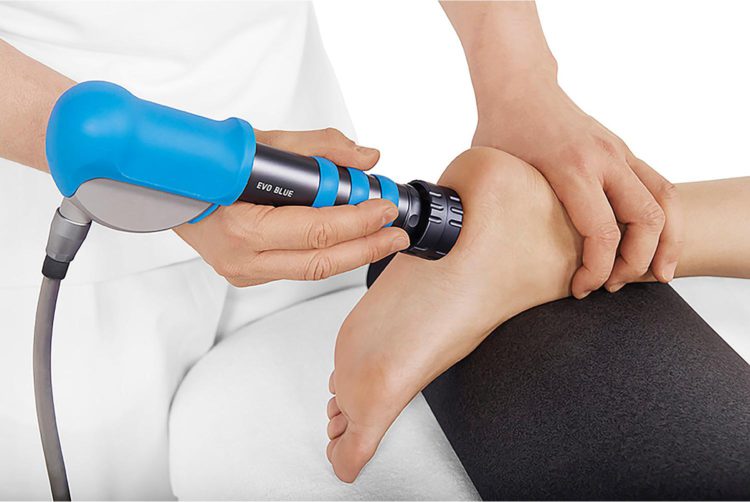 The shockwave is an intense, high energy wave that advances faster than the speed of sound. Shockwave therapy uses a series of these acoustic waves which pass through the tissue to reach the point of pain origin. The high energy waves used in SWT help accelerate tissue repair and regeneration at the site of tissue damage.
Before application of this treatment, a thorough assessment of pain is done including precisely locating the site of the pain and checking for any contraindications. At the beginning of the treatment, a gel or ointment is applied over the injured or painful part which needs the SWT, and the transmitter is rolled over it with slight pressure. There is NO electrical shock that you receive during the treatment, rather it is an electromagnetic wave, solely used for therapeutic benefits without causing tissue impairments.
Research shows that the medical benefits of the SWT are a result of the stimulation of collagen production, destruction of calcified cells, dispersion of a pain indicator called "Substance P" and the release of trigger points which lead to relaxation, increased blood flow, and removal of toxic elements from the pain-stricken tissue.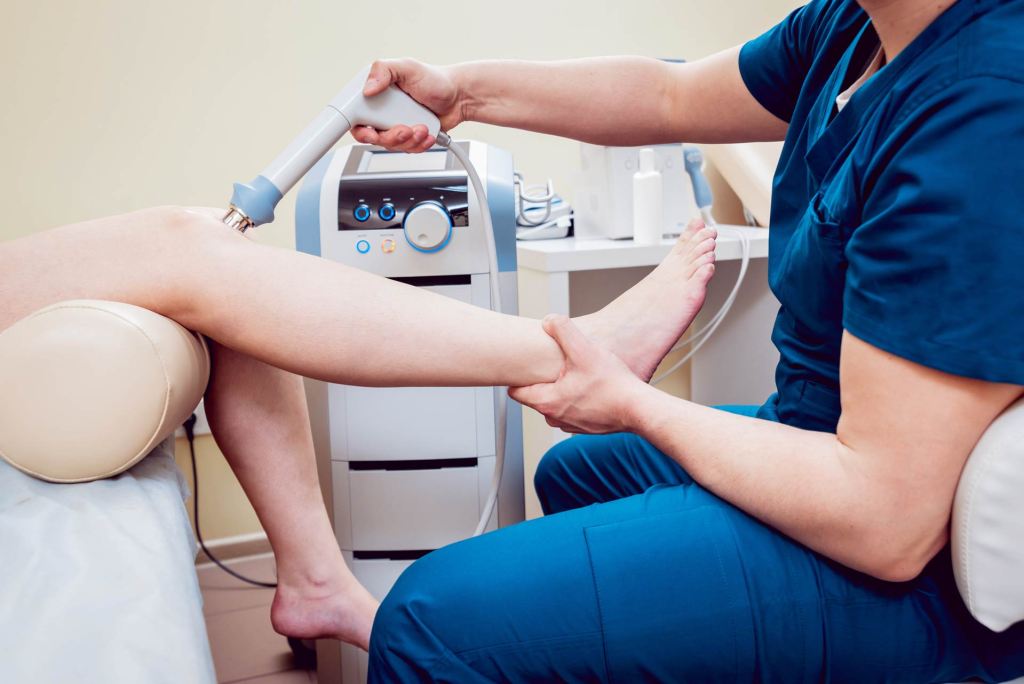 The common conditions resolved by SWT are Achilles tendonitis, Heel Pain, Hip Pain, Knee Pain, Calcified tissue, Shoulder Pain etc.
This procedure does not require hospitalization. It is a tested and safe therapy without major complications. At Alleviate Physiotherapy, we have a trained team of individuals that deliver the SWT with utmost care and precautions.
What conditions can be helped by the SWT?
SWT is highly useful in treating chronic tendon issues such as tendinitis and tendinopathies, plantar's fasciitis, and chronic myofascial trigger points. Below is a list of conditions that can benefit from the SWT.
Plantar Fasciitis
Tennis Elbow ( Lateral Epicondylalgia)
Golfer's Elbow ( Medial Epicondylalgia)
Achilles Tendinopathy or Achilles Tendonitis
Shin Splints ( Tibial Stress Syndrome)
Jumper's Knee or Osgood Schlatter Disease
Calcific Rotator Cuff Tendinitis
Stress Fractures
Scar Tissue
Low Back Pain
Myofascial Trigger Points
Trochanteric Bursitis or Gluteal Tendinopathy
What are the major benefits of choosing SWT?
SWT has many benefits over the use of painkillers and other invasive options as this treatment is non-surgical in nature. In addition, SWT can permanently alleviate pain and promote healing of the pain-stricken tissue without any major side-effects. In addition, it is an affordable option of treatment.
How long does a typical SWT session last and how many sessions do I need?
A typical SWT session usually lasts for 20 to 30 minutes depending on the condition and the site of injury. Your therapist may combine the SWT with other treatments to achieve maximum impact. This treatment usually results in permanent relief in about 72 hours following treatment; however, it is highly dependent on the nature of the injury.
Mild discomfort is expected during the SWT session, but it is usually well tolerated by the patients. Once the tissue becomes desensitized, the discomfort reduces. The intensity of the stimulus can also be adjusted by the physiotherapist to minimize the discomfort. SWT results in an inflammatory response which helps in the process of tissue repair. This local inflammation may cause discomfort to the patient after the end of the treatment session.
Is SWT covered under the Extended Health Plan (EHP)?
Why choose Alleviate Physiotherapy for your SWT?
At Alleviate our priority is your satisfaction and pain relief. All our therapists take the utmost pride in providing the best quality care to help you achieve the maximum functional recovery in the shortest period of time. Choosing an Alleviate therapist for your care will assure your journey to recovery is on the right track. We believe that your success is our success.
We can serve you in 4 different languages: English, Hindi, Gujarati, Marvari
We are open 7 days a week to serve your needs. This means that our wait times are minimal so that you can receive a speedy and accurate service.
Have Further Questions? Let Our Experts Alleviate That.
Let us help you with our Risk-Free Consultations
For your convenience, our free 10-minute phone consultation will allow you to ask us more specific questions you may have or discuss any additional concerns.
By the end of our risk-free consultation, you'll be able to decide whether you should take the next step. Please contact our office to set up a 10-minute no-obligation call with one of our expert Therapists.
Feel free to discuss with us your specific health & wellness concerns or to see if we're a good fit without putting any money down. No obligations. Fill out the form here.